WARM-UP DRILLS
BY  LA CAMERA  LUCIANO
Warm- ups is the most important aspects of your training and match day routines. It's vital that your players warm-up to maximise their performance and reduce the risk of injury. In this article, Coach La Camera is showing us one of his warm-up training session (for all ages), developing technical skills for players."It's  really important to insert dribbling and running games, to let your players start and injoy every session day"
Drill & objective (s)
Warm players up
Develop players technical skills
Develop players fitness and conditioning
---
Today's article proposes a 3 heating circuits with the use of the ball, the target in these initial 20-25 minutes are related both for the individual technical training and to the mental / physical condition to carry out further work. It should be noted that these 3 proposals can be proposed in all categories with the necessary changes of time, space and objectives.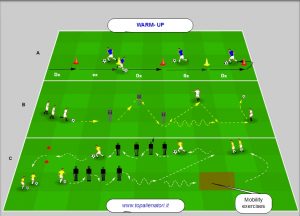 Grid  A
Ball mastery/ball technique/ball control with both feet
Controlling and driving the ball, changing pace and feet every time they passed a new colored cone.
Grid  B
Conduction ball between the obstacles arranged in a triangle and combination of passing: one two passing.
Grid  C
Dual slalom on two tracks and joint mobility area: the first player dribbles throw the mannequin, and passes to this partner on the opposite way, (player 2 does the same exercise in the opposite direction) player 1 finish going to the mobility zone.