Football  drill tactics using quick one touch passing and overlapping movements to finish in the box.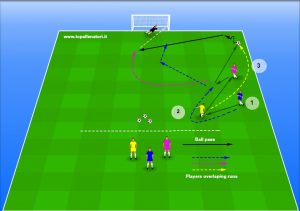 ORGANISATION:
Set up and area 50 x 50 meter using 1 full size soccer goal, balls are positioned near the first station: there is 3 station with 3 players.
INSTRUCTIONS:
Looking at the diagram, there is 3 players: the drill starts always with the blu player, that kick's the ball to the yellow player and runs to do a overlapping around him. The yellow player does the same thing; a one touch pass to the violet player in the third station and he run's toward him (overlap). The violet player pass the ball to the blu player and he runs toward's him, the final one touch passing from the blu player towards the yellow player on the wing, which, meeting the ball, effect a cross in the box for the 2 team mates, and finish.
KEY COACHING PIONTS:
correct technique passing

correct timing runs
VARIATIONS:
This combination drill can be placed even on the middle of the pitch.
Author: coach Luciano La Camera 
Font: www.topallenatori.it