TRAINING ACCELERATION AND DECELERATION FOR U17 FOOTBALL PLAYER'S
Understanding the physical demands of soccer requires accurate and objective quantification of the players' match activities. It is well established that soccer is characterized by low- (e.g., standing and walking) and high-intensity (e.g., running and sprinting) activities. Along with the sport-specific activities (e.g., tackles, turns, headers, dribbles), locomotor activities constitute the total physical load a player experiences during a match.
Important factor concerning player load is movements with accelerations and decelerations. Movements with accelerations are more energetically demanding than constant velocity running. Even at a low running speed, a high metabolic load is imposed on a soccer player when acceleration is elevated. Decelerations are just as common as accelerations in soccer and will therefore also contribute significantly to the players' load during match play.
Today we present you a circuit to train your players, precisely on the analysis of the numerous movements they make in the match, the exercise involves a few meters of accelerations, deceleration, braking standing on one leg for a few seconds, a few meters of walking and then the acceleration restart, all carried out in a rectangle that shows the image below.
EXAMPLE n°1
Field preparation
rectangle grid 20 x 15 meters – 6 white cones – 4 red cones – two starting positions.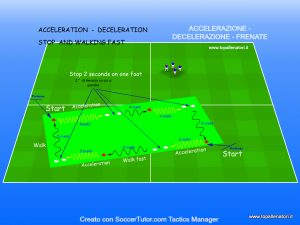 The start takes place from the two red cones ( see the picture above), Player's begines in acceleration of a few meters (five mt), phase of deceleration and stop into the white cones with one leg up for 2 seconds, then walk fast towards the next red cone, repeat acceleration until the next white cone, 2 seconds stop, and then walking fast towards the next red cone, two rounds and one minute recovery.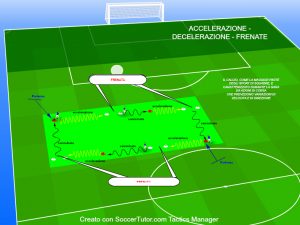 Author: coach Luciano La Camera
Fonte: www.topallenatori.it