MOTOR SKILLS IN FOOTBALL 
FOR KIDS
Author: coach La Camera Luciano
A thorough warm up should be performed before each practice session. Refer to the "Warm Up"
section of the website for a variety of fun warm up activities for your team. Use a combination of
exercises "with" and "without" the ball. Relate the warm up to the skill of the day. Be creative,
energetic, and make the warm-up a fun start to the practice session.
Todays exercise for your kids (under 11) is Motor skills, too increased there abilities with and without the ball.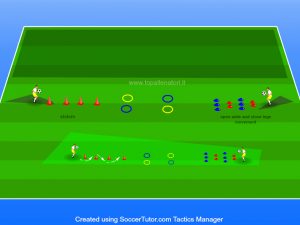 Exercise Objectives:
This practice is designed to develop motor skills while running with the ball in hands.
Field Preparation
2 Players, Area 15 x 15 yards, Cones , 2 Balls
Coaching Pointers:
Two players are positioned each side of the circiut with the ball in hand, they leaved at the same time and perform the routes. (open wide and closed foot working between colored cones, and slalom between cones). The first to arrive at the end will leave his ball inside one of the two colored circles, waiting for his team mate, doing the same think. Afterwards, they will, interchange route and continue the new path.
Author, Coach Luciano La Camera
www.Topallenatori.it